Show Information
Theatre Address
175 Yongan Road,
Xicheng District, Beijing
Qianmen Jianguo Hotel
北京西城区永安路175号
前门建国饭店内梨园剧场
Liyuang Theatre Introduction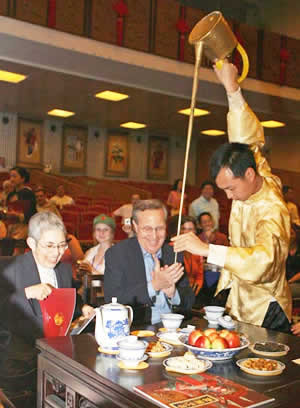 Beijing China's national Opera, Beijing Opera enjoys immense popularity among Chinese theatre goers and holds great appeal to foreign audiences. It's origin dates back to 1790 when four local Opera troupes from Anhui province came to Beijing to give performances at the Qing court.
In 1828, they started to stage joint performances with the local opera troupes from Hubei province at the Qing court. Influenced by Beijing local dialect and drawing on each other and the artistic styles and expressions of other local operas, particularly singing, these joint performances developed in a twenty years period into a new from of opera with distinctive features, namely, Beijing Opera, during the reign of Emperor Xianfeng(1850s). among the noted Beijing Opera artists during this period were Cheng Changgeng, Yu Sansheng and Zhang Erkui.
The Beijing Opera Institute
The Beijing Opera institute of Beijing was founded in 1979 through the manager of four Beijing Opera troupes respectively headed by Mei Lanfang, Shang Xiaoyun, Cheng Yanqiu and Xun Huisheng who were outstanding Beijing Opera actors performing female roles and the Beijing Opera Troupe of Beijing which boasted such famous performing artists as Ma Lianliang, Tan Fuying, Zhang Junqiu,k Qiu Shengrong and Zhao Yanxia.
Enjoying high popularity both at home and abroad with a large number of leading performers of different artistic schools and many operas on its repertoire, the Beijing Opera institute of Beijing is a national Beijing Opera troupe and one of the largest performing art troupes in China.
The Artistic Features of Beijing Opera
Drawing lavishly on many ways of artistic expression of the Chinese nation. Beijing Opera is a complex form of performing art consisting of music, singing, recitations, dancing, fine art, martial skills and acrobatics, In the traditional Chinese theatre, the stage was extended to face the audience in three directions.
This made it possible for its gross exaggeration and unique symbolism. While the stage is bare of scenery, bodily movements of the performers or the holding of a props indicates the backdrop of the play. For instance, holding a horse whip means riding a horse and carrying an oar means taking a boat, The time in which the play takes place is also dealt with in a free way.
The free handling of change in time and backdrop is and outstanding feature of Beijing Opera. Talking a long journey is sufficiently represented by the actor's circling the stage just once, and a few knocks of Genggu(night bell for keeping time in old China) signifies the long night. The change in backdrop is thus executed in an instant. Beijing opera follows a basic principle in its performance: presentation may be lengthy or sketchy depending on the need of the opot. Thus, when necessary, sufficient time may be given so as to fully unfold the dramatic turn of events and the complex innermost emotions of the characters in the play.